Welcome to St. Gabriel of the Sorrowful Mother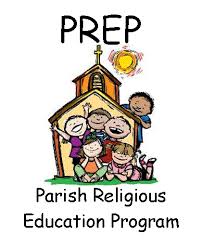 Our program welcomes parish preschoolers (3 – 4 yr. olds) and children Kindergarten thru Grade Eight.
We are privileged to be entrusted with the care and instruction of our parish children.
Structure of the Parish Religious Education Program
Nurture – Enhance – Deepen
Each child's journey of coming to know God began at Baptism and continues through the school age years and beyond.
The parish staff and volunteer catechists partner with parents to nurture a child's developing friendship with God.
Through planned lessons and guided instruction children's knowledge is enhanced as catechists share the faith they know, live and love.
Of greatest value to a child's growing faith are the simple experiences of a lived faith that happen in class and especially in the home. Examples of these experiences include:

Coming to worship weekly at Mass with our Church family
Praying in class with friends and at home with family
Reaching out to express care for the needs of others
These are deepening experiences that lead a child to concretely conclude that "God is very important to my family and to me."
Catechists are volunteer women and men called by God who are fulfilling their role as disciple.  Volunteers are required to be in compliance with the archdiocesan policy of Safe Environment. This consists of background checks and completion of the Safe Environment training session.
We are tremendously grateful to our volunteers for their commitment to the children and families of our parish.
Program Goals
To develop an understanding of the Catholic faith and to encourage its practice in the lives of our children and their families.
To pray with our children and guide them to develop the practice of prayer in their own lives.
To prepare children to receive the Sacraments of Reconciliation, Eucharist, and Confirmation.
To inspire a sense of responsibility for service to the church and community.
Classes
Classes are held most Sunday mornings, September to May, from 10:00 to 11:30 a.m. It is strongly suggested that children attend the 9:00 Mass with their family and then come to class.  
A calendar of classes is made available at the beginning of the PREP year.
Behavior Policy
Our behavior code is based upon the two great commandments:  LOVE GOD and LOVE ONE ANOTHER.  Therefore, students, adult volunteers, and parents are expected to treat one another with the dignity and respect that each person deserves as a child of God.  We greet one another in a friendly manner realizing that we journey together as brothers and sisters in Christ.
Statement of Inclusion
St. Gabriel of the Sorrowful Mother PREP accepts children of all abilities.  We will work closely with parents to build inclusive classroom experiences for all children, to the extent that each individual child can participate, and the program can reasonably accommodate.
Curriculum Compliance
The instructional materials used in PREP are chosen from the Archdiocese of Philadelphia list of approved texts. This list is in conformity with the Catechism of the Catholic Church.  Lessons are in compliance with the Archdiocesan Religion Guidelines and the essential curriculum topics designed for each grade level.
Registration Information
Registration – NEW STUDENTS
New registrations are accepted at any time.
Requirements:
Your family is registered with SGSM parish and actively participates in the parish, especially weekly attendance at Mass.
New registrants are required to make an appointment to meet with the pastor before registering for PREP.
A copy of the child's Baptismal Certificate as well as exact dates of other sacraments received.
If a child is transferring from another program, a transfer letter from the director or most recent report card showing evidence of completion and attendance, is required.
A per-child fee is required.*
Re-registration – CURRENT STUDENTS
Re-registration is held in August for children currently enrolled in the program.
Parents complete a re-registration form for their child/ren.
A per-child fee is required.*
Registration – OUT-OF-PARISH
A family that is registered at a parish other than St. Gabriel of the Sorrowful Mother must first meet with the pastor of SGSM to discuss enrollment in PREP. If approved, you will be directed to obtain written permission from your pastor to register your child for PREP at SGSM.  An additional fee is required.*
*Program Fees
The tuition is as follows:

$100 for one child
$160 for two children

The program fee is determined by the pastor and parish finance council. The fee helps to offset the operating costs of the program, including instructional materials and supplies.  A portion of the fee is applied to the cost of courses, workshops, and seminars for catechist education and enrichment.
Out-of-parish fees are determined after meeting with a family and reviewing their request for registration.
Sacrament preparation fees are $50/child for Confirmation and $25/child for First Holy Communion.
(A handbook, explaining the program in greater detail, is provided to each registered family at the beginning of the program year.)